Viki, you're a wonderful speaker and so easy to get along with, too…(Your) appraisals have been glowing.
Lynn LiljaIllinois Regional Speaker Trainer
What a delight to hear your story again. I checked and last time you spoke was Feb. 2013. Only 23 of those attending this year (2015) heard your testimony before. You reached many different ladies this year. Everyone loved the presentation on Israel. Thanks for sharing your beautiful photos and knowledge. Thanks for your willingness to be a speaker. You've touched many lives in a special way. May God continue to bless you.
Morning Connectionin Cedar Rapids, Iowa
I've been involved in Christian Women Connection for over 40 years. You are the best speaker I've had yet. God bless you!!
Rockford Women's Connectionin Rockford, Illinois
Thank you so much for coming to our Iowa City Christian Women's Club. Thanks for doing double duty. We loved the Israel slide show. You added so much with your comments. It's a power point you can be so proud of. We enjoyed your talk too. I remember a lot of it from last time. You have been through a lot. God is using you. I love "For I know the plans I have for you." I liked your book a lot. That ALS is terrible. Prayers for you.
Noon Midday Connectionin Iowa City, Iowa
We all certainly enjoyed having you and appreciate your testimony for Christ. Two decisions—WOW! May God continue to bless you.
Terre Haute After 5 in Terre HauteIndiana
I just finished reading Where There Is Faith He Is With You and I am celebrating your sharing your journey of faith with me and all those who will read your book. Your story is beautiful and I am confident will touch thousands of lives so that they will be renewed in their faith or come to know Jesus personally. Thank you for coming to Terre Haute to share personally your story.
S. O. in Terre HauteIndiana
Thank you so much for your heartfelt genuine story. I personally will never forget that day because my mom accepted Christ as her Savior. We had 5 that said they did. God has surely blessed you and gifted you to spread His word. Thanks for sharing your gift. All the comment cards were very positive. May God bless you.
Elgin Area Women's Connection in ElginIllinois
Thank you very much for a wonderful and inspirational testimony at our luncheon. I heard some wonderful comments from the ladies afterwards that they really enjoyed your talk.
Vincennes Area Christian Women's Connection in Vincennes, Indiana
Your passion for our Savior and sharing his saving grace with others, radiates from you and your message! I love your true understanding of God and his plan for every person's life. No matter what happens to you along the way, He never leaves our side, abandons his plans nor forgets his promises. Thank you for reminding us of this truth! Thank you for sharing your beautiful message. So many ladies found your story inspirational. Your presentation was warm and welcoming and extremely well done! Thank you!
Indianola Midday Connection in Indianola, Iowa
Thank you for presenting your information on Israel. I am not well versed in the happenings in the Middle East, so I love hearing about it and find it so fascinating.
Date Palm Trees blooming in the Israeli desert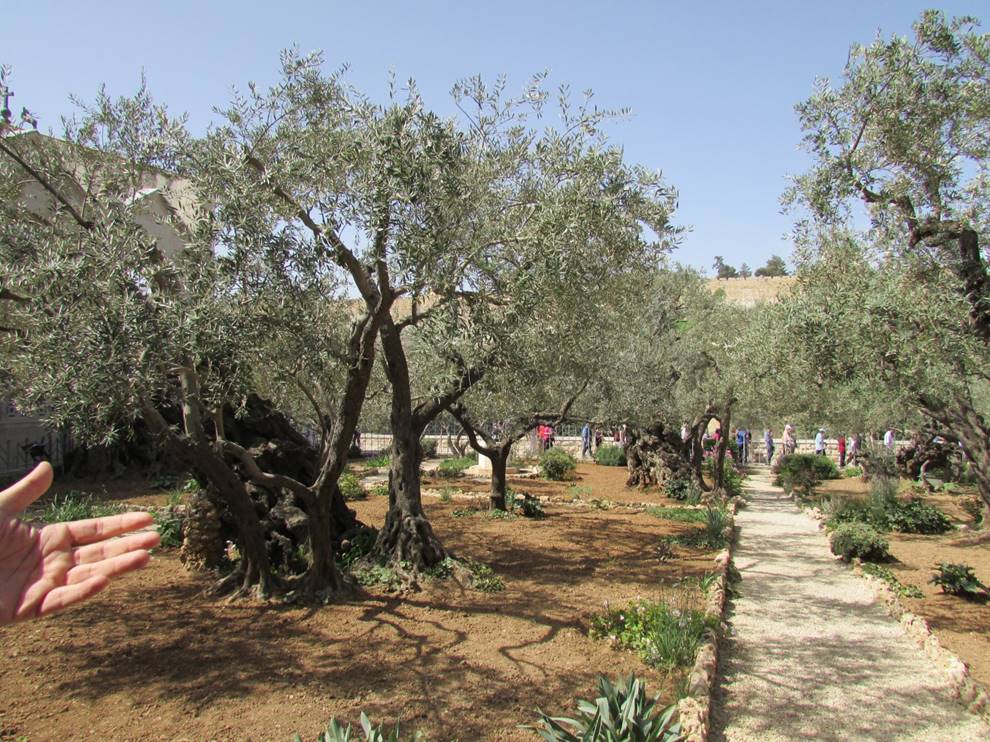 Olive Trees in the Garden of Gethsemane
Indianola Iowa
I just want to bless you for your ministry among us today. Thank you for your sacrifice! We give thanks to God for at least three women coming to faith in Christ today. WOW! May God grant you an anointing and renewed strength to travel and speak…Iowa will be richer for your having come here! Thanks so much.
Des Moines Midday Connection in Urbandale, Iowa
Thank you again! You were one of the best—God is using you—He is so faithful. May God bless you in your speaking this coming year.
Champaign/Urbana Christian Women's Connection in Champaign,Illinois