Viki Scherer is an author, inspirational speaker and teacher. She shares about her journey of faith and her husband Doug's battle with ALS in her book Where There Is Faith He Is With You which is also available as an audio book. She is an approved speaker for Stonecroft Ministries, an international ministry with the mission to impact women and their communities with the Gospel of Jesus Christ.
Viki has a Bachelor of Arts degree with a double major in journalism and speech communications. She has worked as a newspaper reporter, Bible teacher and as a substitute teacher. Currently she is the Administrative Assistant at Harvest Christian Center in Decatur, Illinois.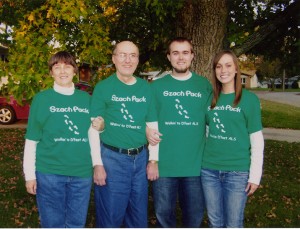 In 2009 the Scherers were selected by the ALS Association St. Louis Regional Chapter as a family that best exemplifies the spirit of ALS across America for the state of Illinois. Also in 2009 Viki was named a National Caregiver by the ALS Association.
Whether a person is facing a terrible illness or providing care for someone who is, if he has experienced the loss of a loved one or is just struggling in his faith, Viki's testimony and her book offer encouragement and the assurance that God is with him in all circumstances.
A widow, she has a married son named Michael, who has his own musical production company called DreamVizion Productions, and Viki's daughter Sarah is a missionary in Mozambique, Africa.